Hello dearest peeps, and what have we here on this bright, cold November day? Well, bless my soul, it's a candid little shot of me writing a blog post, surrounded by all my dearest children, who are clearly hanging on my every word while peeking lovingly over my shoulder, just so. How touching! How heartwarming! How........... far fetched and utterly untrue!
But hey, that's show biz for you, because this is one of the photos that Cliff, the crumpet eating Irish News photographer took when he was here nearly a month ago. Yes, you did read that right, A MONTH AGO! It's been so long now that friends and family have actually stopped asking me when I'm going to be in there, because they've obviously assumed, naturally enough, that,
a) I'm so boring that The Irish News decided AFTER interviewing me and taking photos- 'Thanks, but no thanks love', or
b) I'm obviously delusional and made the entire story up. (Although, in my defense, if I WERE to
make it up, I'd
definitely
have plumped for a slightly more glamorous Hello or Grazia interview instead.)
Either way though, it's a lose- lose for me, so last week, I took the bull by the horns and feeling COMPLETELY wick, rang the number Crumpet Cliff had given me to get copies of the photos he'd taken. I spoke to the lovely man himself, and not only did he send me the photos, but he reassured me that I would indeed make it into the paper before 2012 is out.
I asked him straight out too. 'Cliff', I said, 'I'm a big girl AND an unfit mother to boot, if it's been put into the old circular file, just tell me. I can take it!'
'Absolutely not', he insisted. Apparently, it's scheduled to be in the weekend Features section, which always has a backlog, so it's often months before an article appears. Oh my goodness! The relief that I wouldn't have to pretend that I'd dreamt the entire thing, like Pam in Dallas was huge, (HUGE, I tell you!), so I assured Cliff he was welcome here for buttered crumpets anytime.
But back to the photo- even though it may look like a relaxed, chilled moment, nothing could be further from the truth. This was the last photo taken, so nerves were frayed, noses were running and clean clothes were steadily getting covered in jam. Poor Cliff must've taken 50 shots before he got this one- when he did eventually manage to get everyone looking at the Ipad, Rory decided it was the key moment to pick his nose, or Luke the ideal opportunity to squeal and wriggle off my knee, or Cormac, the perfect time to graciously share a 'silent but deadly' with all of us. Ah, good times....
Thank God for Mr Tumble!
So, as it was, the only way to keep Luke on my knee was to put Cbeebies on the iPad, so in the photo we're actually
all

deeply engrossed in Mr Tumble's cheeky antics!
Oh, and out of interest, any idea how Cliff cleverly got the screen to light up our faces like that? Well, insider knowledge alert!!! Because there's actually another flash hidden behind the iPad and a piece of white paper on it's screen, (which unfortunately restricted Luke's full appreciation of Mr Tumble so he kept pulling it off), but still, how cool is that!? Don't say you don't learn stuff around here!
Have a good Monday my loveliesxxx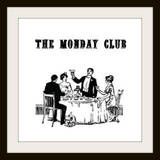 I've joined up with Sarah Miles at Hello Wall today-go on over and take a peek at the rest!